Escape from the City Rush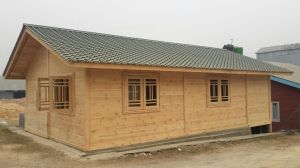 Here we come up with our first project in Srinagar of wooden cottage of 2BHK which is been built up in the 620 Sq. Ft area. This home is been erected just within two months with all the complete fittings. This wooden cottage is been build with the use of traditional Russian approach what makes it durable, safe, weather resistant and enjoyable both in hot and cold seasons. The best part of wooden homes is that it can be dismantled & can be reassembled again with least cost effect. Wooden homes completely made of wood, standing separately or above the existing concrete structures always look good in natural surroundings.
Whether it is your own house or commercial project, the scope of work we offer and design options we have ready with us in a wide range of most economical and little comprehensive architectural solutions will match your investment plans for sure.We are working on establishment of local set up for more quality wooden homes for private and commercial use and invite everyone to experience it now in Srinagar. Give yourself a chance to enjoy a wooden home, that will embrace you with its warmth & comfort. As wood is an alive material, made by Mother Nature itself, it will bring all its healing properties & good energy. Solid, joyful & light-minded just as you want your home to be.