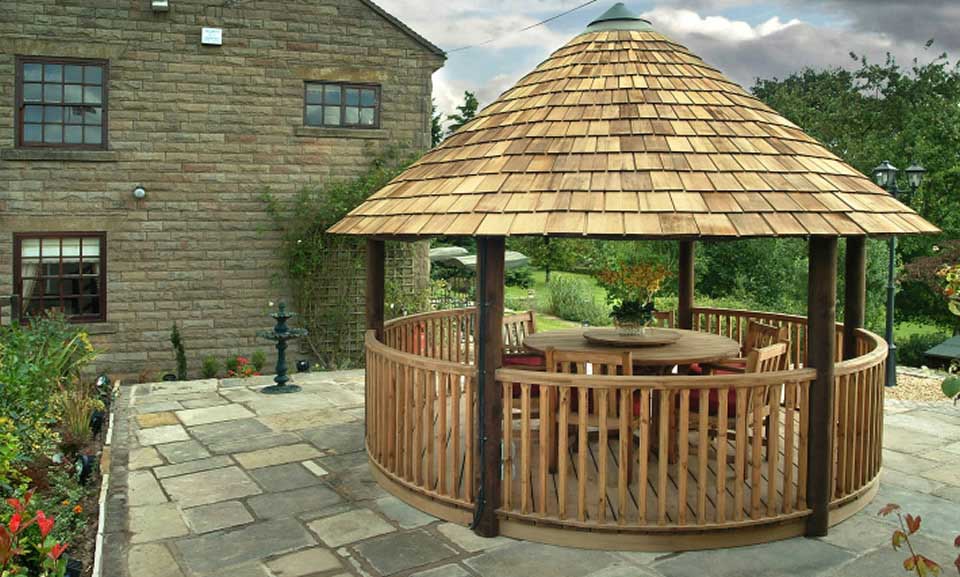 Give A Fabulous Look To Your Wooden Gazebos With Amazing Garden Ornaments
Gazebos are a roofed structure having open walls, it's an outdoor place decorated with varied designs and styles. Gazebos are themed-based structures. Some are made with Garden outdoors while some are made with a soothing tone to give peace and serene feel. Gazebo is made of Wooden Sheds and Frame. They are made in various sizes; shapes and materials but the most common of all are the Wooden Gazebos. Usually Gazebo is in the shape of an octagon, round or rectangular. Gazebos are the perfect place to enjoy the open skies and good climate. Gazebos are usually placed to give a warming feel of a Garden or a simply stretched out part of any country home where there are lot of open spaces.
The Wooden Garden Pergolas are common structures in homes where there is warmer climate. It's a semi-open roof providing shade and openings from each side. Maharaja Log Company specializes in the construction of Gazebos with best designs and structures. Its entire wooden cutting is done in plants that are high-tech and most advanced. They have recently tied up with a plant in Siberia where the cutting wood profession passes from one generation to the other. Gazebos are the things that people love to have and it could be hand constructed as well. But, you need to have professional hands involved in it and you may require a lot of instruments and machines to do it. Maharaja Log Company offers complete solutions for Wood houses and the construction of Gazebos or Pergolas at very affordable rates.
If you are person who enjoys much outdoor activities then Gazebos and Pergolas are the perfect place to enjoy. They are sheltered areas also helping you enjoy the outdoor fun activities with your families and friends. You can enjoy the sunny feel of warmer climate and be protected from direct rays of the sun. The Wooden Garden Pergolas can be customized according to the choices of the owners. You have different choices for selecting its design, style and structure. There are different types of roofing material you can select from. Some are hand crafted while some are factory made. They give one of the finest looks when it comes to giving best look and feel for your contemporary or modern homes.
Over years, people have been constructing Gazebos outside their homes and with changing technology it just gets better and better. Most are constructed taking into consideration the climate of the place where it's constructed. Like, for the coastal areas, it requires light lumber structures with heavy log. The best part of constructing Gazebos is that they are more like furniture that could be readily moved from one place to another. They are durable and over years it can be used, reassembled and shifted from places. With the reassembling parts, you can even redesign the existing structure of the gazebo. Gazebos and Pergolas enhance the look and feel of your homes. They highlight the natural beauty of climbing flowers. The different crafting options give special look to your structures.